---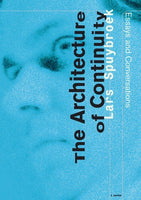 Author: Lars Spuybroek
Issued: 2008
"That buildings are made of elements doesn't mean that architecture should be based on elementarism; on the contrary, we should strive for an architecture of continuity that fuses tectonics with textile, abstraction with empathy, and matter with expressivity."
This is the crux of the argument Lars Spuybroek makes in this book, the first fully theoretical account of his innovative work. The state of contemporary architecture is the product of a 150-year battle between the Polytechnique and Beaux-Arts schools of design, which has forced us into a stalemate between the radically opposed positions of high-tech and sculpturism. Spuybroek aims to do no less than mend this rift through rethinking technology as an extension of our feeling senses, materiality as the realm of activity and agency, and structure as the result of genesis.

Building on Gottfried Semper's materialist theory of architecture, he takes us from a philosophy of technology to a surprisingly historical argumentation that constantly revives the words of John Ruskin, William Hogarth and Wilhelm Worringer. Alongside a number of essays, the book contains extensive conversations in which we witness him refining and sharpening his arguments ("We will see a merging of Art Nouveau and Bauhaus, where empathy has been liberated from manual labor and machines have been liberated from uniform repetition"). In a period of theoretical tranquility in architecture, this book takes a refreshing turn back to the basics, one in which tools, methodology and architectural aesthetics are recalibrated.

Lars Spuybroek is Professor and Thomas W. Ventulett III Distinguished Chair in Architectural Design at the Georgia Institute of Technology in Atlanta. He is also the principal of NOX, an architecture and art studio in Rotterdam, the Netherlands. His previous books are The Weight of the Image (NAi Publishers, 2000) and NOX: Machining Architecture (Thames & Hudson, 2004).
"This Spuybroek guy is the cat's pyjamas of parametric architecture. I read his Continuity book and it was like being hit over the head with a Gothic column."
Bruce Sterling
Contents
Foreword by Detlef Mertins
Introduction: Experience, Tectonics and Continuity
Motor Geometry
Substance and Accident
The Motorization of Reality
The Primacy of Experience
The Soft Machine of Vision
Africa Comes First
The Structure of Vagueness
Sensograms at Work
The Lives That Are Hidden
Machining Architecture
The Architecture of Continuity
Textile Tectonics
The Aesthetics of Variation
Steel and Freedom

Acknowledgments
References

The Architecture of Continuity is made possible by the Netherlands Architecture Fund (Stimuleringsfonds voor Architectuur). www.archfonds.nl and the Prins Bernhard Cultuurfornds. www.prinsbernhardcultuurfornds.nl