---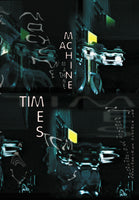 Editors: Arjen Mulder, Joke Brouwer
Issued: 2000
With: Douwe Draaisma, Kodwo Eshun, Robert Levine, Detlef Linke, Atau Tanaka, Mark C. Taylor, Eugene Thacker, Francisco Varela, Peter Weibel.
What is "the Now" wrapped in technological immersion? Is the depth of the moment, only something to remember or are we continually confronted by non-stop moments in real-time?
In contrast to extensive time, the time of duration and continuity, technology provokes intensive time, according to Virilio - intensive time being the technological acceleration of moments which we are unable to grasp. Whereas the millisecond may be child"s play to the computer, the brain takes about 0.3 seconds to find synchronicity in the experience of time and space. As the intensive time of the computer drastically eliminates the space continuum, all focus moves to purely time-based media, producing high-speed machine times. How does the mind relate to these machine times? How does extensive time collide and perhaps intertwine into the accelerated pace of technology? Must we shift gears to matrix-minded speeds just to keep up? The DEAF_00 book may prove the impulse ... with texts by Francisco Varela, Detlef Linke, Mark Taylor, Eugene Thacker, Douwe Draaisma, Atau Tanaka, Kodwo Eshun, Robert Levine, Peter Weibel and Æ.
Also linked to the symposium, the book gives catalogue information on the exhibition and other presentations at the festival ... coming to grips with the synchronization of time-based information, perhaps it is time to speed up your sensory data input?


Essays and Interviews
Francisco Varela: The Deep Now
Detlef Linke: The Rhythms of Happiness
Mark C. Taylor: We are the incarnation of complex Worldwide Webs
Eugene Thacker: Regenerative Medicine: We Can Regrow It For You Wholesale
Douwe Draaisma: The Clockwork of the Mind
Atau Tanaka: Speed of Sound
Kodwo Eshun: Visions of rhythm in the kinematic pneumacosm of Hype Williams
Robert Levine: Time Talks, with an Accent
Peter Weibel: Chronocracy
Æ: S8P Antennas, Transmission
Artist Projects
Andrej Ujica: Out of the Present
Claudia Kölgen: Sitting
Martin Reinhard/Virgil Widrich: tx-transform
Mari Soppela: Heimola
Akisugu Maebayashi: Sonic Interface
John F. Simon jr.: Every Icon
Marnix de Nijs: Panoramic Acceleration
Eike: X=X+1 (INCREmental)
Christian Kessler: Transverser
IBW: Yes, we have no Norit
Ron Kuivila: Twilight of the Second Hand
Dieter Jung: Light Mills
Perry Hoberman: Timetable
Woody Vasulka: Time/Energy Object and its Building Element, the Waveform
Atau Tanaka/Kasper Toeplitz: Global String
Gerald van der Kaap: 12th of Never
Ana Giron: Artificial Time
Gregory Barsamian: The Trap
ART+COM: Ride the Byte
Ikuo Nakamura: The Mirror