---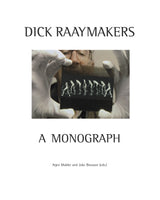 Dick Raaymakers: artist and pioneer
Dick Raaymakers (1930) is widely recognized as one of the founders of Dutch electronic music in the 1950s, and as a multimedia artist he was way ahead of his time. Dick Raaymakers' works and installations as well as his music and theater performances are so original that they are unique in the world. His influence on colleagues of his own generation but especially on younger generations of artists cannot be overestimated.

Dick Raaymakers: A Monograph is a 450 page, richly illustrated book offers insight into Raaymakers' work methods, thought processes and motivation and is a must-have reference work. This overview is complemented by a number of essays by experts from the world of music and theater, such as Elmer Schönberger, Frans Evers, Kees Tazelaar, Michael van Hoogenhuyze and Paul Slangen.

Together with V2_Institute for the Unstable Media, Dick Raaymakers has been digging through his personal archive for two years in order to track down the first sketches, correspondence, final concepts and often intense collaborations and performances of all of his works. This does not only offer an insight into the work of Dick Raaymakers, but into a major part of Dutch post-war art as well.

Dick Raaymakers: A Monograph is a book that should be in the collection of every lover of electronic music, theater, art and performance.
"By thinking outside of musical frames Raaymakers has been able to unite music, theater and visual art like no one else."
Reinbert de Leeuw
Translations: Hepzibah Kousbroek, Laura Martz and Leo Reijnen.
The photograph on the cover is an image from the NPS documentary In Search of a Lost Application (2000) by Jacqueline Oskamp.
Dick Raaymakers: A monograph has been made possible with the aid of:
The Netherlands Foundation for Visual Arts, Design and Architecture;
The Mondriaan Foundation;
The Nederlands Fonds voor Podiumkunsten;
VSBfonds;
Société Gavigniès;
Prins Bernhard Cultuurfonds;
The City of Eindhoven;
Johan Wagenaar Foundation, The Hague;
Stroom, The Hague;
Royal Conservatoire The Hague.